Our Community
Sunlight REIT is committed to being a responsible corporate citizen. We embrace the vision of sustainable development, which is manifested in our care for people and nature. In our view, the notion of sustainability constitutes an integral part of our business decision- making process, which helps to endeavour and establish best practices in every aspect of our operations, such as property management, corporate governance and human resources administration. In pursuit of this goal, we have constantly engaged various stakeholders, including our tenants, subcontractors, suppliers, sponsors, investors as well as our employees. Sunlight REIT is particularly mindful of the welfare of the communities in which it operates. Our staff members are encouraged to interact with the neighbourhoods where our buildings are located so as to understand the needs of the people around us.
Unplug to reconnect
June 2022
The popularity of and dependency on digital devices may cause estrangement between family members. During the Year, we organized the "Unplug to Reconnect" activity with the intention of fostering intergenerational inclusion and parent-child relationship. It provided an opportunity for participants to re-examine the role of mobile phones and the proper use of technology in interpersonal relationships and interactions. Through a series of activities, we hope that families can treasure their time together and spend more time on face-to-face communication with each other.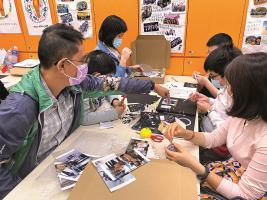 Green. Art. Connect
May 2022
With our ongoing partnership with Evangelical Lutheran Church Social Service – Hong Kong, we have launched an eight-month programme to offer a series of green education activities for underprivileged families in Kwai Chung District. With the theme of "Green. Art. Connect", the programme brought together a group of female carers, primary school children and children with special educational needs through community and green arts, while raising public awareness of resources conservation, community care and waste recycling.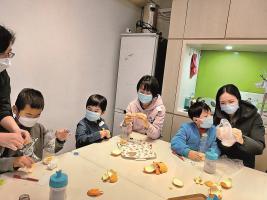 Distribution of anti-pandemic bags
March 2022
In light of a significant upsurge of infection cases during the fifth wave of COVID-19, certain sectors in the community such as the elderly living alone, disable persons, low-income families, patients, etc. were short of pandemic prevention products and daily necessities. We endeavour to allocate our resources to provide special care for groups in need under such emergency circumstances. During the Year, we partnered with St. James' Settlement to distribute 800 anti-pandemic bags with rapid self-test kits, hand sanitizing gel, disinfectant bleach and food supplies to three elderly centres in March 2022. We hope that this would help support the elderly in overcoming the difficulties under the pandemic, while expressing our respect and appreciation to this generation.