Our Community
Sunlight REIT is committed to being a responsible corporate citizen. We embrace the vision of sustainable development, which is manifested in our care for people and nature. In our view, the notion of sustainability constitutes an integral part of our business decision- making process, which helps to endeavour and establish best practices in every aspect of our operations, such as property management, corporate governance and human resources administration. In pursuit of this goal, we have constantly engaged various stakeholders, including our tenants, subcontractors, suppliers, sponsors, investors as well as our employees. Sunlight REIT is particularly mindful of the welfare of the communities in which it operates. Our staff members are encouraged to interact with the neighbourhoods where our buildings are located so as to understand the needs of the people around us.
Recycling-related workshops with YMCA
May 2023
We recruited around 50 teenagers to participate in a series of sustainable art and design activities for a three-month programme. In May 2023, participants visited Tung Chung and the Lantau Island to learn about sustainable town planning practices. Through the visit, we shared our experience to the younger generation on the importance of having a sustainable and environmental conscious lifestyle and we intended to motivate them to become environmental responsible citizens by promoting eco-friendly consumption, while illustrating the benefits of using a capacity-oriented approach to town planning.
Subsequent workshops allowed participants to engage with local artists and delve into the world of installation art. The programme culminated in an art piece design competition and competing teams created artworks by using recycled materials and the outstanding entries will be displayed at the lobby of DSFC latter part of 2023. This meaningful initiative provides young people to learn about sustainability through art and design and foster creativity and promote environmental responsibility.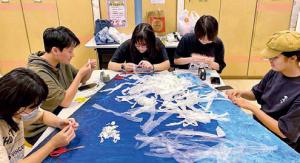 "Caring the Caregivers"
January 2023
Sunlight REIT organized a series of "Care the Caregivers" events with the support of St. James' Settlement ("SJS") and it paid tribute to caregivers of persons with chronic illnesses, disabilities or other needs, with the aim of raising public awareness of the challenges they face.
Commencing from November 2022, we jointly organized 16 online and physical workshops (such as massage therapy) for the caregivers with SJS and the program lasted for three months, culminating with a lunch banquet held at MCPI in January 2023. Over 150 people, including 48 pairs of caregivers and care receivers attended the event, providing them with an opportunity to come together for a joyous lunch gathering, while recognizing the efforts of the caregivers with appreciation and special gifts from their care receivers. A photo exhibition was also set up concurrently to raise awareness of high pressure and burden faced by caregivers.