Mission and Strategy
The Manager intends to optimise the performance and enhance the overall quality of the portfolio through various business and investment strategies :
Mission
The key objectives of the Manager are to provide unitholders with regular and stable cash distributions, and the potential for sustainable growth of such distributions and long-term enhancement in capital value of the properties.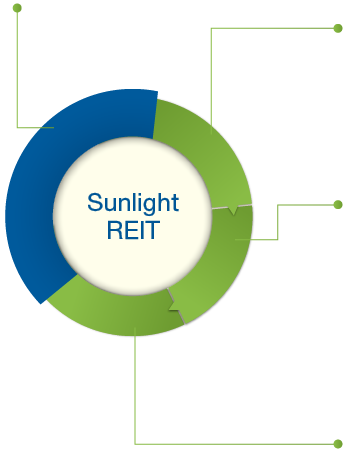 Operational management and asset enhancement strategy
The Manager works closely with the Property Manager to develop proactive leasing strategies, cost saving solutions and asset enhancement initiatives aimed at improving the rental income and unlocking the value of the properties.
Investment and acquisition growth strategy
The Manager seeks to acquire income-producing investment properties which have the potential to provide attractive total returns to unitholders through accretion in distribution yield, sustainable growth in distributions and/or long-term enhancement in capital value. The Manager also considers from time to time fine-tuning the portfolio through divestment of non-core assets for more attractive investment alternatives.
Capital and business management strategy
In support of the operational and acquisition growth strategies of Sunlight REIT, the Manager has in place an efficient capital management strategy, characterized by the appropriate use of equity and leverage. It has also established a solid business management framework which includes sound corporate governance practices, effective risk management and internal control systems, reliable management information systems as well as an experienced workforce.