Our Community
Sunlight REIT is committed to being a responsible corporate citizen. We embrace the vision of sustainable development, which is manifested in our care for people and nature. In our view, the notion of sustainability constitutes an integral part of our business decision- making process, which helps to endeavour and establish best practices in every aspect of our operations, such as property management, corporate governance and human resources administration. In pursuit of this goal, we have constantly engaged various stakeholders, including our tenants, subcontractors, suppliers, sponsors, investors as well as our employees. Sunlight REIT is particularly mindful of the welfare of the communities in which it operates. Our staff members are encouraged to interact with the neighbourhoods where our buildings are located so as to understand the needs of the people around us.
10 Tonne PET Bottle Collection Challenge
April 2019
We supported the plastic bottle recycling campaign "10 Tonne PET Bottle Collection Challenge" organized by V cycle aiming at reducing landfill preasure. Collection bins for plastic bottles were set up at Sunlight Tower to collect used bottles. After treatment, these bottles were recycled and remade into reusable bags for a charity sale to support elderly waste pickers.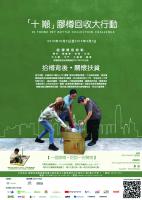 Mobile Blood Donation Service at Sunlight Tower
April 2019
In support of the Hong Kong Red Cross' blood drive, we helped to set up a mobile blood donation station at Sunlight Tower. This initiative provided an opportunity for our staff, tenants and neighbourhood to save lives by replenishing the blood inventory, fulfilling the constant demand for blood supply and supporting patients in need.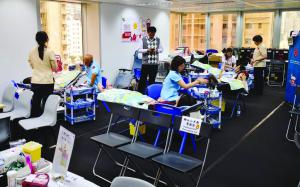 Village Casserole Feast with the elderly
January 2019
During the Chinese New Year, we collaborated with St. James' Settlement to spread love and care to single seniors through a "Village Casserole Feast". During the event, the elderly shared their valued experiences with our volunteers and the smiling faces of everyone reflected the meaning and value of the event.